Research & Publication has been an integral part of Foresight core objectives wherein primary focus is to work on specific sectors to have better insights for grassroot working. Some of the important work is captured like Publication as part of UNDP supported Panchayati Raj project in the state of Haryana where some of the interventions are done first time addressing core areas of local governance in villages.
Apart from this Foresight research priorities remain around rural women, skilling, livelihood & capturing success stories of women change leaders.
Panchayati Raj Journal: Developing, Designing, publishing and distributing the quarterly journal to every panchayat through out the state based on the mandate of panchayats set-out in the Haryana Panchayati Raj Act to carry out development work in the village.
Developing and Publishing of Haryana Panchayati Raj Act: One of the key outcomes of the project was to publish a booklet in Hindi with pictorial representation of Haryana Panchayati Raj Act so that any elected Panchayat could refer to this to understand about carrying out its operation smoothly.
Developing of Trainers Manual for Master Trainers: The other important outcome based on understanding from different orientation from state level to block level in line with Haryana Panchayati Raj Act, a training manual was developed for master trainers to train newly elected members of Panchayats.
IMPACT STUDY: Impact Study of the role of Panchayati Raj Institutions in Women Empowerment: A state level study was conducted to map the impact of reservation in panchayats on social status of rural government.
The Impact Assessment study is  primarily concerned with role and impact of post 73 Amendment PRIs on socio – economic and political empowerment of women in the state of Haryana. It was decided and approved to select three districts from Haryana state. Based on various developmental parameters across various districts, three districts namely Mewat, Rewari and Sonepat districts were finally selected. It was also decided that a sample of 500 women elected members will be selected from each district. Accordingly, a total of 1500 women members elected from 9 villages of 3 blocks from 3 districts will constitute the sample size for the study. Haryana has been selected for study of impact of reservations for women because of its Low ratio of Female to Male, Overall Male literacy rate  of  78.5 % to  Female rate of  55.7 % and rural area  of  75.4 % to 49.3 % and SC % age of  21.4 % ( rural areas) and 14.4 % (urban areas).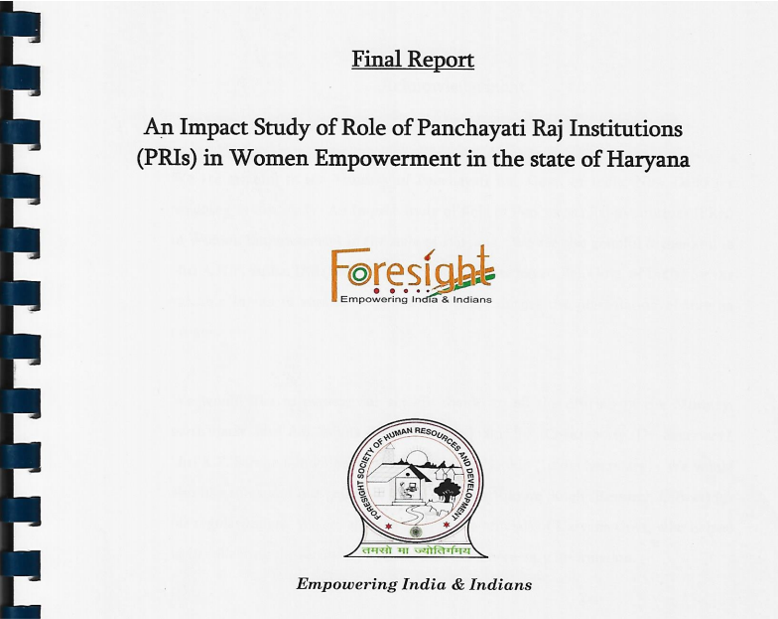 YOUTH STUDY: Youth Aspiration Mapping for Multi Skilling Program: In January 2011 when country was going through a major shift in skill eco system, Foresight Society of HRDconducted a study in Delhi/NCR among youth to find scope of multi skilling programs with IT skills. Some of the key findings are: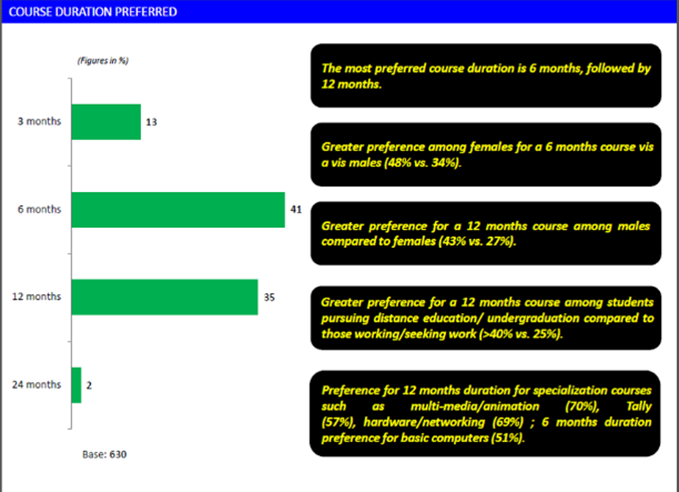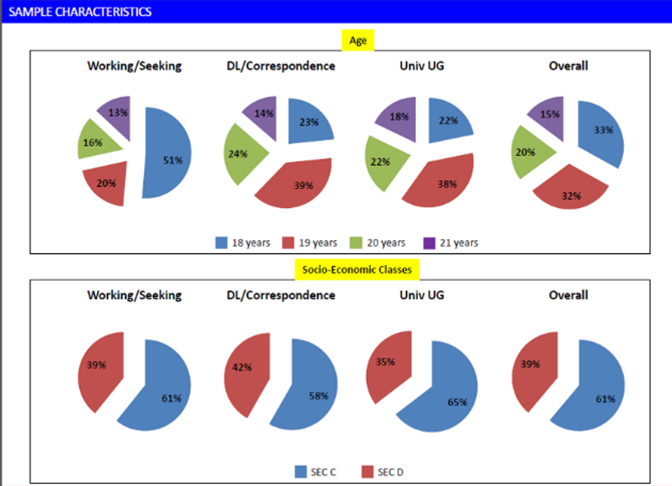 Youth Aspiration Mapping for Career Path: After a new skill policy is in place where government supports the training institutions to provide employment-oriented trainings in different sectors, Foresight Society has taken up a youth aspirational study in Delhi/NCR to map the gap in youth aspirations & job availability upon completion of modular skilling programs.